Making Time for Leadership
The Center for Employment Opportunities (CEO) recently held its September Leadership Retreat. Over 140 leaders from CEO's 12 states and 30 offices converged on lower Manhattan in New York City. It was the first time we had all been together since before the pandemic. Over three days we celebrated, learned, and were inspired.
The joy and energy were palpable in our New York City headquarters. After over two years of pandemic shut downs and hybrid work, it felt like a real homecoming and an appreciation of the CEO community. Team members' expressions about their time together stood out for me: "This week was amazing"; "I consider myself blessed to work for such an amazing organization"; "It was great connecting and reconnecting with everyone this week"; "Grateful for you all! I'm emotionally recharged"; "Feeling very reinvigorated because of you all!"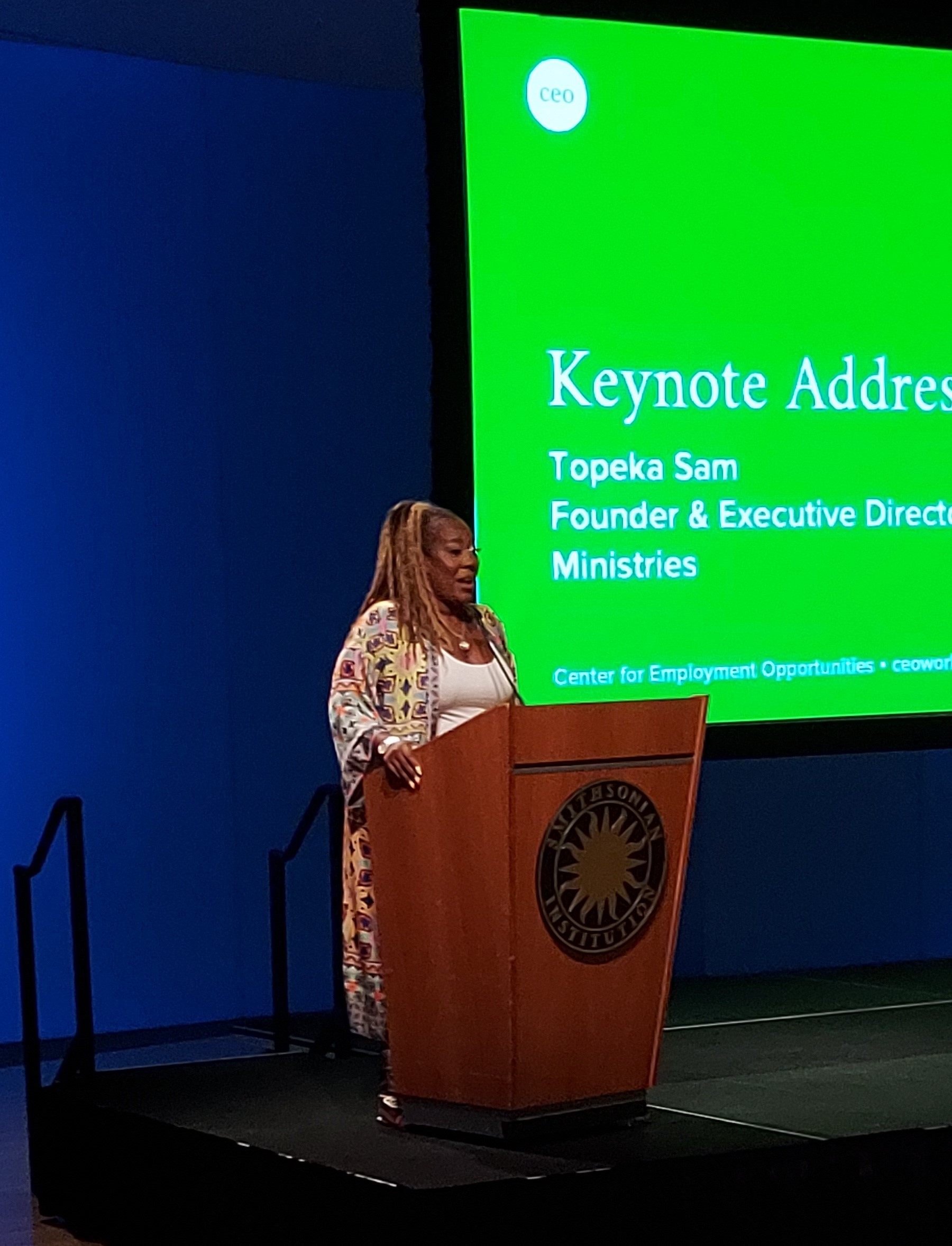 The first morning of the retreat featured our keynote speaker, Dr. Topeka Sam. Dr. Sam spoke passionately about her journey from incarceration to founding Ladies of Hope Ministries, an organization dedicated to helping women and girls leaving incarceration to create sustainable lives. She spoke of the challenges and trauma justice-impacted women face, particularly women of color-- 80% of whom enter jail as mothers and over 55,000 who are pregnant at admission.
Dr. Sam's story reminded me of the importance of CEO's work to end mass incarceration and create a vision for returning citizens that is anchored in possibility and hope, not limitations. As a woman of color and mother, I was inspired by Dr. Sam's journey and her path to social sector leadership and excellence. I felt it was especially important for my colleagues who are justice-impacted leaders because they are so central to CEO's success and I hope they were inspired by Dr. Sam's story to continue advancing their own leadership at CEO and beyond.
(Dr. Topeka Sam pictured)
The retreat was also a time to reconnect in person after over two years of work that was heavily disrupted by COVID. In many instances, colleagues met people they were working remotely with for the first time in person. As CEO's President, I have always been impressed by our culture and commitment to diversity, equity, and inclusion. Our program leaders reflect this commitment. We are diverse in how we identify ourselves, how we think, where we come from (the sports teams we support!), and our life experiences. Our culture welcomes this and it was a strength for the organization in the worst days of the pandemic.
The retreat affirmed for me that CEO is extremely lucky to have a team that is so focused on and connected to the core mission. One of my favorite parts of the retreat involved a recognition ceremony highlighting the good work of over 25 CEO program leaders. I read words of acknowledgment from their peers that celebrated the everyday hard work that goes into supporting our participants' reentry journeys. It was an important reminder to create more time and space for celebration and recognition each day.
Retreats are a lot of work. An incredible team of people took time out from their regular jobs to come together to secure venues, plan the activities and make sure everyone was informed and cared for during the retreat. Our venues at the National Museum of the American Indian and the United Federation of Teachers building were close to our headquarters making it easy for everyone to move around. I am so grateful to the retreat planning team who took on the organizational work along with their regular duties and did a phenomenal job.
CEO is an amazing place to work because our people are extraordinary. They care deeply about our participants, but also about the organization and push us every day to get better and increase our impact. My greatest source of pride in working at CEO is seeing the growth and commitment of our team of leaders across the country.