#MLKDay Series 2021: Betty McKay
Betty McKay
Former Participant
CEO Oakland
As we celebrate the life and teachings of Dr. Martin Luther King Jr, we asked a few of our staff and participant colleagues to share some reflections. What emerged are powerful statements touching on the unfinished work of racial and social justice, the importance of CEO's mission and enduring legacy of Dr. King's example.



Voting became an important issue for me while I was incarcerated at a California State Prison. It became clear to me that the system, which chose to treat me inhumanely and like I was disposable, acquired the power to do so by the public vote. I learned felony disenfranchisement had been a form of voter suppression aimed at black and brown people for over 100 years. Today, I continuously pose the question to myself and others: "If my vote has no power, why have they made it so difficult for me and people like me to exercise our right to vote?"
For me, voting is about simply owning the power to navigate my life. To have a voice that counts and to be a model of possibilities for those who are like me. I was discharged from parole just in time to vote in the November 2020 elections. I sat at my dining room table and cried tears of joy to be able to fill out that ballot. I am an organizer for the Essie Justice Group, an outside policy organizer for Initiate Justice, Healing to Advocacy Facilitator, former chairperson of the Center for Employment Opportunities Participant Advisory Council, Board Member with From The Inside Out, a motivational speaker, and I am formerly incarcerated. I have a decent place to live, in addition to a car note like everyone else. And I have earned the right to vote.
After 27 years of incarceration, stepping into the role of a freedom fighter was not a decision I pondered like selecting the perfect fruit. It was natural to me, like brushing my teeth. There is something about redemption and second chances for those of us who have lost our freedom along the way and have worked so hard to gain it back. Our second chance looks different than that of others. When you have been redeemed, given a second chance, you are not called to be ordinary -- you are called to be extraordinary. I believe this is why the change makers, the freedom fighters, the leaders of our communities, and most caring citizens are formerly incarcerated people.
I remember these questions tumbling from my mouth as I stood shaking at a state capitol hearing two years ago. "I have completed my sentence. Why can't I vote? I have not been stripped of my citizenship? Why can't I vote? I work and pay taxes. I pay rent and attempt in every way to contribute to my community. Why can't I vote to say what happens to those taxes or what happens in my life, my family's life, and the community I live in?" I recall that day as I stood passionately fighting for my right to be whole, for my right to be fully redeemed, for my right as a citizen of the United States of America. How can I be a true part of a society if I am only a limited partner?
On November 3, 2020, California voters passed Prop 17 and struck a blow to a system rooted in suppression of black and brown folks. Winning this battle took boots to the ground, courage to stand uncomfortably in our truth about who we were versus who we are, and required convincing Californians from all walks of life that we were worthy of the right to vote. It took formerly incarcerated people standing up as the brilliant, phenomenal, best versions of ourselves to recreate the image of who we are. The picture the system had projected us as is no longer. We are the leaders of our communities, productive and upstanding.
In 1965, Dr. Martin Luther King Jr. led a march in Selma, Alabama to focus on voting rights for black and brown people. He and those with him were met with so much violence that the march was deemed Bloody Sunday. The march in Selma directly led to the passage of the Voting Rights Act of 1965. Now we must step into the power of what was won that day. The power of the vote. It's time to level up.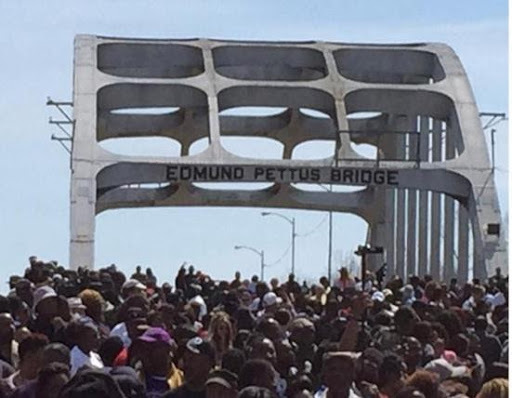 Dr. Martin Luther King Jr. was not always my favorite freedom fighter. I would choose the more radical Malcolm X, although both will be honored by me for their greatness as activists. I now have a greater respect for MLK's concept. I currently follow his path of being a non-violent freedom fighter. Might is not in the fist but in the mind. I want to be the change I want to see for my grandson, for formerly incarcerated people, and for black and brown people in America, America -- I say it twice because there are presently two Americas -- one for them and one for us. We are reminded of this when we think about the recent domestic terror attack on the nation's capital that looked so different from the peaceful protests of Black Lives Matter. I fight with hope and reinvigorated conviction to dismantle racist and oppressive systems. My sword is the loudest voice I have...my vote.
Our true power lies in our vote. With our vote and steadfast dedication to change for marginalized people, we will win.